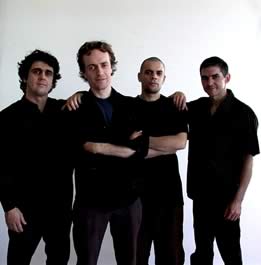 Unfortunately still very unknown outside their country, the French band Mix City published in these last years two very pleasant works based on psychedelic and eccentric instrumental jazz rock, with modern musical solutions and, at the same time, close to vintage atmospheres of the sixsties and the seventies… The band, lead by the keyboard player Jean-Patrick Cosset, has recently published their second CD "A Funny Style", so I liked to write some questions to Jean-Patrick…

Three years has gone-by since the release of "On Track", during these years your rhythmic section has been completely replaced by new arrivals, Marc Delouya on drums and Frederic Chiffoleau on bass, a fact that surprised me a bit… What happened?

Simon Mary has gone because he was very busy with his own band (Mukta) at this time and Patrick Jouannic has gone for personal & musical reasons. You know it's very hard to keep the same band during many years when this band doesn't work enough or when each members aren't involved the same way. The actual line-up has changed with the arrival of Alain Baudry on drums since March, and I'm very happy to play with him, and with Fred Chiffoleau & Dj K20 too... It's the best band I've never had for Mix City.

"A Funny Style" is your second album, partially it resumes and continues the discourse started with your first CD, perhaps with more energy and simplicity. "A Funny Style" seems much more oriented to black and funky music than "On Track", the use of samples and scratches are much more predominant than the previous work. Which have been the elements that have carried to the release of "A Funny Style"? Is there a bit of improvisation in your songwriting?

Of course there is many improvisation!! The music of Mix City is organised between written & improvised parts, and the energy conducts us to develop the appropriate sound in the point of time. I wanted with the new pieces of music more simple forms for more freedom in the playing. I always have loved and wanted a contrapuntist writing for the drum and the bass, as in the music of James Brown in the 70' with Bootsy Collins and Clyde Stubbefield or Jabo Stark for example. So the rhythmic sound, for me, is more original than actual funky productions. I'm also very interested by rhythms of jungle music (with music by computer) or hip hop which come from black and funky music...

Your songwriting is quite singular, it's in the middle of retrò-sixties fashion and more modern musics. I think it's quite hard to compare you with other bands... Why did you want to mix together drum'n'bass, jungle, hip hop with jazz-rock generally related towards a musical period apparently dated?

I think it comes essentially from my Keyboard set (Hammond B3, electrics piano, clavinet Hohner) which make a sound typical from the 70's, and from my jazz sensibility with the use of a drum & a doublebass in the actual period where we can't hear a lot of acoustic sound... but I'm very interested in sound and productions of my time…

Of course, the Hammond organ is the main instrument of Mix City's music, I think your work is like a kind of modernization of the music played years ago by musicians like Brian Auger and many others… Can you give us a small overview about your musical and non-musical influences?

My influences depend really of the period of my life... in chronological order: psychedelic music, rock, hard rock, progressive music, jazz, funk, contemporary music, electro, pop... My first buy in my life was "I wish you were here" (Pink Floyd) and recently Matthew Herbert's last CD...

Until now your music has been entirely instrumental, will you like to insert some sung parts in your songs? Already from its title, "A Funny Style" is clearly an album graced by the irony, still more of your debut "A Funny Style" shows a different sense for the entertainment… Do you mean irony a way to render more accessible compositions complex as could be yours, or you live irony like a fundamental element in order to express your feelings?

I never found the good singer for MIX CITY, but it's in my mind, later perhaps... That's why I use many samples with voices... I don't search for the irony but I think that a little bit of humour in music is good, especially when you play instrumental music close to jazz...

Did you sell a rewarding number of copies of your works or the spreading phenomenon of downloads has penalized it? Generally you received good reviews, but I think that your popularity is still delimited in France, especially as far as your live acts. I know that it's very hard playing around, but are you going to organise any small tours outside France?

I don't know about downloads in our case... We don't have the possibility, for the instance, to organise a tour outside France, not enough contacts, and it's always a matter of money (transports & so on), it's already very hard in France for us...

"On Track" enclosed four nice videos realized by Isabelle Dehay. Are you going to develop your involvement into videos?

About the visual work, we haven't continued this, because I preferred to work with a DJ for the moment. It was really what I needed in the music of Mix City. Perhaps we could have a new project with the video in the future but not for the moment...