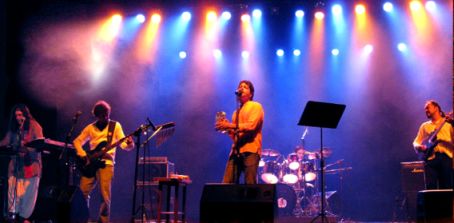 We seemed to have lost the tracks of this Brazilian band, after their successful debut dated 1997, when they came again to the light at the beginning of 2008 with a brand new album ("Segredos do Chão") that we cannot but appreciate it for its freshness. We have addressed some questions to Estevão Kalaany, voice and guitar of the band, to discover something more about this charming group.


Why has so much time passed since your first album?

Well, many things have occurred: two of the members went to Portugal to live and play there; we decided to put things on hold and consequently it changed our musical plans. After ten years, we're together again to compose new songs, with a new perspective. And there we are.

You decided to leave English for your native language, which, for us, increases the bond with your traditional music. Why? Are you happy with this choice?

Absolutely. One of the great changes of our music from the first album to this one is to compose in Portuguese. For us it sounds better, we get more originality and we feel at home to sing and create new songs. We are very happy with the result.

What changed in your music in the meantime, apart from the language?

Basically we incorporated some aspects of Brazilian popular music, starting with a "song concept" (playing on guitar & vocal), and after we arrange it. For that reason we gave special attention to harmonies and melodies, where here, it's evident of the Brazilian influence.

I like your acoustic guitar parts: I noticed in your instrumentation a Portuguese guitar, used in fado. Why this choice? Is there a link with this kind of music?

Oh yeah, maybe not only with "fado", but certainly a link with Iberic roots of Brazilian music, that also have a lot of Arabic influence. In this way, I've always liked to use different stringed instruments such as a 12 string guitar, nylon and a steel 6 string guitar, "viola caipira" (in the first album, on "Dunya") and now with the Portuguese guitar (on "Longe Daqui"). It's an influence of musicians like Steve Howe and the Brazilians Robertinho de Recife and Sérgio Dias, whom used a lot of these instruments besides the electric guitar to get different sounds. I like it.

In your lyrics I noticed references to the world of nature and positive feelings; what inspired you?

We think that nature inspired us; it's a beautiful theme to talk about. Also we think that we have to talk about these things because they are good and if nobody talks, they can lose their significance. For all our lives the nature aspect is very important, it's our source and we have to protect it. And positive vibrations too, forever.

What exposure is your music currently having in Brazil?

We've started to promote our music this year with some shows and we've had excellent feedback from the audiences. We're trying to spread our music to all audiences and fortunately, we're seeing that each day as we're getting better.

What are your references, whether local or not?

Basically progressive bands like Yes and Genesis but a lot of Brazilian music: Milton Nascimento, Lô Borges, Beto Guedes, A Cor do Som, 14 Bis, and so on.

Why did you decide to release the album on your own?

If we did not make it, we probably would have to wait more and with no guarantees of the work within our own identity. Although we know the difficulties of being independent, it's worthwhile. We expect to promote more in Brazil and Europe with any label that is possible, or comes our way.
We're open!