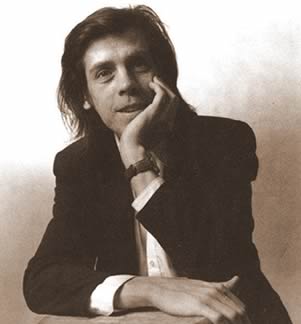 For a strange case, Örjan Strandberg, leader and guitarist of the Swedish Prog band of the Seventies Dice, got in touch with us after reading an article about his band, proposing to satisfy the curiosity that the author expressed. We could not miss this wonderful opportunity to ask him to tell us some others stories about a band that remains, despite its short discography, an important part of Swedish Progressive Rock. We remind that recently Örjan himself participated to the tribute album "Rökstenen", playing with other groups the wonderful concept "The Four Riders of the Apocalypse". But that's another story and we invite you to read this interesting interview to learn more.

How old are the songs of your eponymous album? What difficulties did you encounter for its publication and what kind of objections did you get by music labels? How many copies have been printed?

The songs on our studio album were most of them written between 1972 - 1975. "Follies" was originally a number of songs that later were put together into the suite, although the common denominator was mental illness also for the songs.
As you can tell from the obscure record label - 'Marilla' - we didn't get any major record company's attention. But having the record released at all was thanks to our music publisher (Southern Music/peermusic) who really made an effort.
Marilla had 1500 copies printed. That's it. These copies are the only existing vinyl copies of our debut album, and I've learned that their collector's value is quite high these days. I myself have two copies left.

The stuff of the posthumous "The Four Riders of the Apocalypse" was recorded even before "Dice". Why did it remain unpublished? Would you like to talk about its recording: have you got any particular recall about it?

Leif (Larsson, the keyboard player a/n) and myself started writing the material for "Riders..." before we actually were Dice. At the time we didn't even consider to have a singer for the band. But as things turned out, getting an interest from Southern music, we felt that our shot to get to make an album required that we had a repertoire of more "normal" songs. So we put "riders..." aside when it came to planning our album, but mind you, we played "the 4 riders" live a lot in this period!
In -76 though, we were offered to make a 1 hour special on national radio. Our choice became "the Riders". But since it is rather complex, changing styles, instrumentations, sound-settings a lot, we felt we would be more safe if we made our own recording first as a rehearsal. And so we did. We recorded the thing in sort of one-minute-chunks (because of all the changes in the music) and then spliced the pieces back together for the final 40-minute suite. This was all done in mono, since we didn't plan to use this as anything else than a 'sound guide' for our radio gig. After having done the radio show, we found that somehow our recording had captured much more of the good stuff in "the Riders...". But by this time we were already started on making the "Dice album" with Robert Holmin.
When "Dice" was released, we had less than two years before the whole era of prog rock was pushed aside by Punk. Therefore we never really got make anything more of "The riders". Not until the start of the nineties, when Naohiro Yamazaki of Belle Epoque Records wanted to release more material on CD! That's when I picked up the old mono-tape and fixed it up some in my studio so it could be released in -92. "The riders.." is of course a main favourite among ourselves.

What inspired you for "Follies" lyrics and the saga of Entrudivorians? The music was born in early Seventies: did lyrics come after that or are they of the same period?

Actually, the lyrics spring from very serious philosophical talks with a friend, being 'on the edge' of insanity. In these talks we tried to handle feelings, mental states and other abstract stuff by drawing up the insanity state - Entrudivore - with its inhabitants, entrudivorians (the enemy, those who want to keep you in insanity). The lyrics were first.

Some say that progressive rock bands' lyrics are just fillers: do you realise however you talked about the menace to the ozone even before expeditions to Antarctica? ("The Utopian Suntan")

I owe that to my mother who has been very alert and aware of environmental threats before most people. She had a newspaper article on the threats of freons (in refrigerators and spray cans etc) that I read. But "Utopian Suntan" was originally planned to be part of yet another suite about the future. We had other songs planned about acid rain & stuff. Even some sketches for the stage (including a projection of the earth being blown apart...!) We could have had "Riders..." as a suite telling a historical catastrophe, "Follies" telling of mental catastrophe, and "XXXXXX" telling of future catastrophe. As we all know, we never got that far. And now it seems the future dramaturgy is already writing itself...

The first album (I mean "Dice") is symphonic and sometimes humorous; "Four Riders" is more obscure and austere: what's in your opinion the reason for this difference?

I would guess, a slightly commercial one. In order to attract a record label, we had to have some songs shorter than 7 minutes. (We don't think less of the quality of the songs on our vinyl! They're only different.)

Did a real "Swedish progressive rock scene" exist in the Seventies? Did you know bands like Kaipa, Miklagård, Atlas, Blåkulla, etc and were you in touch with some of them?

Yes there was a prog rock scene in Sweden, where Kaipa was the most famous name, but most of us were aware of one another. We shared gigs with several other bands in the same genre. I could name no more than perhaps 10 Swedish bands who I felt were good at that time, Dice and
Kaipa included.
I am still in touch with Coste (Zamla), Roine Stolt (Flower Kings/Kaipa), Mats J (Isildurs Bane) and people from Kriget and several others..

Are you aware of the rebirth of progressive rock in Sweden? Do you know, and like, any bands? Some of them, like Änglagård, pay their evident tribute to Dice…

Must admit I'm not actively following any particular bands nowadays.

At that time public's response probably hasn't been enthusiastic: why, in your opinion, the interest for your band only aroused in latest years? What do you think about that?

Because it was not until we we're released on CD that our music spread outside the 1500 vinyl owners. We never got any real airplay in Sweden - beside that 1-hour-special.

We heard about some unreleased songs (four of which included in the live album): can you tell us about them? How are they like, compared with the published stuff?

As I wrote, the climate for prog music cooled off quite quickly during the last years of the 70's. We were unable to get another recording contract, so we felt we had to become more commercial. Looking back, I feel of course that we took a step away from the 'Dice musical character' but we didn't plan it like that. I still like the songs in their style, though they are very different from the previous material.

At the end of the Seventies Dice changed several times its name (The Picknicks, Jet Set): was it a way to take distance from previous works and a music then out of fashion?

No no no!! We always had a great love for humour in the band, so we always had some fun at the gigs. At some time we worked as a backing group for another artist. Then we called ourselves The Picknicks, rather than having people know that this was Dice. We also made a fake-punk record where we called ourselves 'Kramp'. JetSet was an entirely new phase, where Southern music had signed 3 of us (Per, Leif & myself) to write hit-material in the spirit of ABBA. And since we were also musicians, we decided we might as well also perform the material.

Japanese reissues of your albums are by now not easy to be found: are you planning new reissues?

We're having negotiations with a Scandinavian company for a further reissue, which would hopefully make the records - or files - easier to come by.

Did you ever think to reunite the band? Why didn't you make it?

Actually, we did! In 2004 Dice reunited for a gig on Leif's wife's 50'th birthday! That was fun! But before that, me, Leif and Per (Andersson, the drummer a/n) had a go in the early nineties, but we all felt we had developed musically in to apart directions to get it all together again.

What the members of Dice do nowadays?

Both Leif and Per are and have been very successful record producers/songwriters, I've been writing and producing music for films, commercials, exhibitions, shows etc etc since the early 80's. Fredrik has been a successful entrepreneur in many different businesses.

Leif and you began to play together in your youth sharing your passion for music remained linked also in your private life. What did Dice mean and what does it mean today for you?

As you say, there's a special bond when you share such a strong platform as having made music together. In a sense, I feel that Leif, Per and Fredrik are family to me, yes even Robert (Holmin, vocalist a/n), though he was with us quite briefly. I know that the others feel the same. We are all very good friends today.