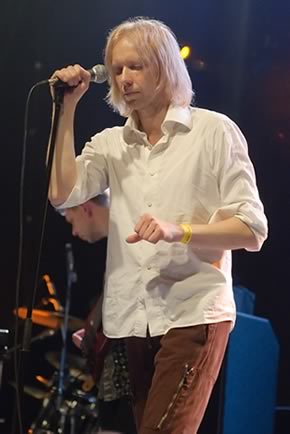 Indrek Patte, singer and keyboards player, is a key character in the history of Estonian Progressive Rock. He was a member of legendary bands such as Ruja and Linnu Tee, two important names in a country that regained its freedom thanks to the so-called Singing Revolution. Indrek is now back with his first solo album, 'Celebration', with a vintage sound but at the same time fresh and tasteful. In this interview we will talk about freedom and love in a journey back in the past and towards a future full of hope for our beloved Progressive Rock.


How did you get to know for the first time Progressive Rock and what struck you most of this music? I know that such kind of records in the Soviet Union were only available at the black market, so I guess it was hard to find them ...

I used to listen to a lot of pop and rock music in English when I was young. My first favourites were the Beatles in the 60s and Led Zeppelin a little later. It was hard to get hold of new music at the time because the Soviet Union was separated from the rest of the world by the Iron Curtain. Records were not sold in stores and local radio stations played that kind of music rarely and selectively. It was still possible to obtain records from abroad, which then circulated among friends. We could also keep up with new rock music via radio programmes such as VOA, Radio Luxembourg, BBC etc., which could be heard in Estonia. In 1972 I happened to listen to a brand-new album 'Close To The Edge' by Yes. I was instantly mesmerised by it. It was a divine, inexpressible feeling, this music was unheard-of, multifaceted and captivating. I had discovered the kind of music that completely reflected my own inner world. I was especially taken by the title track. Its ingenious composition, multifarious sound-image and singing and instrument mastery compelled me to listen to it over and over again. 'Close To The Edge' is still one of my favourite albums. I've remained an admirer of prog rock since then, even to the extent of disregarding all other music styles altogether at times, especially pop music. Though I've become more tolerant towards it over time :)

Progressive Rock had, despite of the communist regime, a large spread in Estonia in the Seventies, so much to gain a good reputation also in other countries. Even today there is a lot of respect for this scene. What is in your opinion the reason of all this interest in this music?

I think that one of the main reasons is that prog rock is a wonderful gift from the Creator both for the generation of the 70s and the contemporary audience. Musically intelligent and with heart touching messages, this style, which broadens the freedom of soul and spirit, has found its way to the hearts of progressively minded people in society, binding them together. As a result, there have been positive societal processes in many countries, which have supported national self-determination. For instance, the Singing Revolution in Estonia but also Pink Floyd's album 'The Wall', which played an important role in the demolition of the Berlin Wall. Prog rock is progressive in every sense.

I know that Linnu Tee've got some problems with censorship by the Communist authorities, can you tell us why? How did you react to these restrictions?

Like many other bands in the 70s and 80s Linnu Tee used performances as opportunities to inject belief in national independence into the audience. This message reached people partly through encoded lyrics and partly through words spoken from the stage. In 1986 at Tartu Rock Festival there was a seemingly insignificant argument between the members of Linnu Tee and a local Communist functionary, in the course of which the band made an ironic comment on the authoritarian regime. That was reason enough to impose a year-long ban on performance on the band and to take away the debut award. Years later this decision was, of course, annulled. The ban was hard for the band members and many of them continued in various other projects in 1987 but belief in both the band and national movement persisted and Linnu Tee performed again in 1988 in Tartu festival, which can be considered one the top events of the Singing Revolution. Although Estonia was still occupied by the Soviet Union at the time, there were blue-black-white Estonian flags to be seen in Tartu and patriotic songs were sung.

As you just told us, In 1986 and 1988 you took part with Linnu Tee to the famous festival in Tartu: what do you remember of these experiences, and of the other bands?

In fact, Linnu Tee participated in Tartu festival six times: for the first time in 1986, then from 1988 to 1991 and later in 2009, at the festival's 30th anniversary concert. In 1987 members of Linnu Tee performed with various other groups, I performed with Ruja. Tartu Rock Festival was a prestigious event and only groups who were musically interesting and original were accepted to perform; there weren't many pop groups. Many bands prepared a special repertoire of complex compositions for this event. There were always pleasant surprises. To me the most memorable performers were Ruja, In Spe, and Peeter Volkonski and Rosta Aknad who were all top prog rock musicians in Estonia at the time. It was also always interesting to listen to the virtuoso fusion groups Radar and Kaseke. Like many others Linnu Tee also performed new music every year. Most of our music from that time can be classified as neo-prog. In 1991 there was a shift towards hard rock. In just a few years we wrote so much music that it could have filled several albums but unfortunately some of it has still not yet been published. Tartu festival was both an incentive and an outlet for creative expression to a knowledgeable audience.

In what format did you publish your debut album in 1989? How do you remember about the making of that album? Did you record or published other material after that with Linnu Tee?

Linnu Tee's debut album came out as an MC because CDs were not available in Estonia in 1989. The record company Melodija also wanted to publish a vinyl record of our album but we didn't agree with their terms and conditions. Years later, in 1997 we produced this album on CD with Linnu Tee's founding member and bass player Margus Kliimask, who was the author of several songs and a good friend. The debut album 'Linnu Tee' features songs mostly from the year 1989. This was a new and interesting experience for us. We spent long days and nights in the studio. In order to vary the sound we used several synthesisers, such as Prophet 5, Jupiter-8, Hammond B3 and others. Sometimes we borrowed instruments from other musicians. In one song we needed a sampler which we got from a well-known Estonian prog-composer Sven Grünberg. Recording the album took us half a year. As I mentioned before, in the 90s we became oriented towards hard rock. We recorded lots of songs in the following 10 years and for Linnu Tee's 25th anniversary in 2010 the album 'Hard To Grow Up' came out.

For a short period of time you played with the legendary group Ruja, recording some songs included in the album "Kivi veereb". What this experience left behind you? Why this collaboration didn't last?

At the beginning of 1987 I was invited to sing in Estonia's most famous prog band of all times – Ruja. At the time I was immensely impressed by the group's music from the 70s and had great respect for the band. The lead vocal Urmas Alender was a very charismatic and unique singer. So this was a great challenge for me. After giving it some thought I joined the band. They were finishing recording the album 'Kivi Veereb' and I recorded two songs on it. Ruja toured all over the Soviet Union and we had many concerts. Sometimes there were three concerts in a day every day for a week. The load was heavy, especially on the singers. Alender and I sang alternately, neither of us could have made it alone. We drove through most of the enormous Soviet Union and gave concerts in very different concert halls. The performing and living conditions were extreme, in a good and bad way. Ruja's music at the time was too complex for an average Russian audience which made it sometimes hard for the band to be understood. Unfortunately, at one point the band manager started to dictate the music and wanted to turn Ruja into a marketable pop group which ran counter to the style and opinion of most of the band members. This caused intrigues and conflict within the group and led Ruja to decline. I left the band at the beginning of 1988. A few months later the guitarist Jaanus Nõgisto, who had been one of the pillars of Ruja for 15 years, also left the band. In summer 1988 Ruja broke up. In autumn 1994 Urmas Alender died tragically in the shipwreck of the cruise ferry Estonia. A few weeks later we performed at the memorial concert with Nõgisto and other former band members. It was the only and the last time Ruja performed after its break-up. In 2003 some former Ruja members and I formed the band Led R, which performs music by Led Zeppelin.

Listening to "Celebration" one can notice many strong precise references to great British Prog groups like Genesis or Yes: this made me think that the title of the album (which also recalls the title of a song by Italian PFM) may signify a tribute to Prog Music. What can you tell us? What are the prog groups, Estonians or not, who inspired you most?

Musically I have been greatly influenced by Yes and Genesis whom I consider my teachers and role models with a deep bow of respect. I think that most musicians who play prog rock can say the same and it can be heard in their music as well. Created in the 70s this music was novel and original, although similarities with the creation of some classical music composers (e.g. Bach, Stravinsky etc.) can be found. These days it is increasingly difficult to surprise people with something new, you can't help comparing it to the superb music composed in the past. Despite that, I listen to new prog bands with great interest because this music still has its charm for me that elevates the soul. Although I wrote my first songs already in the mid-70s I recorded a solo album only in 2011. Until that time I used opportunities for musical expression in various projects. The material for "Celebration" has been accumulating over many years but it became a unified whole in 2010 when I wrote the musical arrangements. The lyrics are all new and have been written in the same year. They convey a spiritual message. The album can be thought of as a tribute to prog music but at the same time the music and message on it seeks to glorify and worship God thanks to whom human beings have the opportunity to share love in this earthly spacetime.

Despite "Celebration" is a solo album, you gathered a lot of guests. The result is a very rich and orchestral sound but also very modern. How did you choose your collaborators? Do you think that this adventure will continue in the future?

Besides me there were 12 musicians involved in recording the album. I have played together with most of them in various ensembles, such as Ruja, Linnu Tee etc. It is important for me that the musicians have a similar musical taste and that they breathe in the same rhythm throughout a particular project. This will reflect later in the sound image and feeling of the music. When I was writing the music I knew I wanted to use the flute and cello because I like both of them very much. Unfortunately I play neither of them, nor do I play the violin. So I asked good friends of mine, the Soon brothers to help me out. I am also very thankful to Raul Jaanson and Toomas Vanem, one of the best guitarists in Estonia, who recorded all the guitars on the album. They are both from Linnu Tee. The bass guitar is mostly played by Vladislav Reinfeldt (S. P. Gulliver), a member of Ruja who is also an admirer of prog rock and has written a lot of exciting music himself. The keyboards and the 12 string guitar have been recorded by myself. The recording process lasted for over a year, I spent every spare moment from other studio projects working on it. I think I will continue working with the main collaborators and hope to bring more interesting music to the audience in the future.

Is it a mere studio project or you're planning to play it on stage?

In general I am more inclined towards the creative process and studio work rather than giving concerts. However, you have to make use of all the possible channels to introduce your music and concerts are necessary to keep in contact with your audience and to convey your message. With 'Celebration' there were two album presentation concerts. One of them took place in St. Olaf's Church in Tallinn for a fairly large audience. The album has received a lot of interest and positive feedback. In summer we will have more local concerts. I hope that in the future we can have concerts outside of Estonia as well.

As well as being an excellent singer and musician, I read that you're also a producer, what do you do exactly?

I have worked as a sound engineer and producer in an audio recording studio Matrix Studios in Tallinn for over 25 years. During this time I have recorded, mixed and produced over 100 CDs from most well-known Estonian singers and ensembles. I have recorded and mixed a wide range of styles from folk, jazz and rock to classical music etc. In 1996 I was awarded the Estonian cultural prize "Suur Vanker" with the title of the best sound engineer and arranger. Audio technology is developing really fast and sound has become very versatile and of good quality everywhere in the world. To keep pace with the changes one has to keep learning. There is still a lot to discover in studio work.

Did you take part to the "Singing Revolution"?

In some sense the Singing Revolution was nurtured already in the Estonian Song Festivals which took place every five years during the occupation period. Those concerts contributed to the feeling of national solidarity and the aspirations to achieve independence and freedom harboured in the hearts of people. The peak of the Singing Revolution started in 1987 with a protest concert against the opening of large phosphorite mines in Estonia. This was followed by a national concert campaign at Tartu festival in 1988 and other concerts in the following years. The culmination of the Singing Revolution was in 1991 and by the end of that year Estonia had regained independence. I took part in most of these events and concerts, whether on stage or in the audience, being a small part of the Estonian nation craving for freedom and independence. Music has the powerful ability to unite people and nations carrying with it the message of freedom and love.